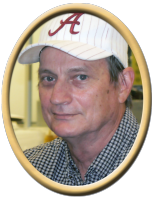 Obituary for Arthur Elmer Davis, Jr.

Arthur Elmer Davis Jr. "PawPaw"

On February 23, 2018, PawPaw decided to take the fishing trip of a lifetime. Although we are unable to join him, he is surrounded by friends and loved ones who have gone before. On his journey, he is sure to be wearing his signature apparel consisting of his highly fashionable short-sleeve button-down shirt half tucked into his worn out blue jeans with tennis shoes and his favorite Alabama baseball hat.

There is no doubt that his first fishing buddy is none other than Paul "Bear" Bryant. We are sure he is keeping everyone entertained with his corny jokes, his Donald Duck impressions, his guitar playing, his singing with made up lyrics and his ability to always win prizes on the Walmart claw machine. By the time we are reunited with him, he will have a host of new comical stories to tell.

He has joined his parents, Arthur E. Davis and Gladys Cooper Slayton and his older brother Norman Davis. He will be waiting with fishing poles in hand for his daughter, Kimberly M. Adkins, former son-in-law James Adkins and his son, Brian K. Davis, his grandchildren Dustin L. Reid, Brandon K. Woodall, Victoria K. Adkins and Jasmine K. Adkins, his sisters, Doris Freeman and Linda Baker, his brother, Bobby Davis, his nieces Teresa Shelton, Nicole Quevedo, and Racheal Helton and his nephews Mike Baker, James Hall, and Jeremy Atchley.

The celebration of life will be held on Monday February 26, 2018 at 2:00 p.m. at New Hope Funeral Home. In lieu of flowers, the family requests that you make donations in his name to the Pancreatic Cancer Action Network (www.PanCan.org ).



Previous Events
Memorial Service
New Hope Funeral Home Chapel
2500 Oak Grove Rd.
New Hope, AL 35760